Breyer Horses are a brand of collectable model horse toys that date back to the 1950s. Breyers feature an extensive line-up of breeds and lines, with horses in a variety of action poses. Many of the Breyer models are designed with a particular theme or focus.
Do you love horses?
Breyer Horses are the most popular model of collectable horses in America. These highly detailed, good bone and muscle structure hand-painted replicas offer hours of enjoyment for children and adults alike. The horses come with a variety of poses, colours, breeds, sizes and styles so there is something for everyone.
You can find your dream horse right here on our website! We have15 different realistic equestrian models to choose from. They're perfect as gifts or just to add to your collection at home.
What are Breyer model horses?
Breyer model horses are a type of toy horse that is made by Breyer Animal Creations. The first Breyer model horse was created in 1950, and the company has since become one of the most popular manufacturers of plastic toy horses in the world. There are many different types of Breyer model horses, including both traditional and contemporary
Breyer Horses are a popular line of model horses that come in a variety of sizes and breeds, including both traditional and contemporary. They are often featured in Breyer Horse Shows where people can purchase them or trade with collectors across the country.
Are Breyer horses still popular?
You bet they are! Breyer is celebrating their 70th anniversary this year. That's quite a milestone for any company, but especially one that produces toys like horses. And what better way to commemorate seven decades of success than by releasing some amazing new models?
From the Traditional Series to the Freedom Series, there's a Breyer horse for everyone. Whether you're into the classics or love venturing into new territory with your toy horses.
How much does a Breyer horse cost?
Prices for Breyer horses vary depending on the size and breed of the horse. However, most Breyer horses cost between $15 and $30. Some of the more expensive models can cost up to $100.
Here are the 15 most popular Breyer horses on Amazon
1. Breyer Snowman, Famous Show Jumper
Price:$49.99
The Breyer Traditional Series is the perfect way to teach children about famous people and events in history. This particular model horse has an 11 1/2″ x 8 5⁄8 inch size, making it large enough for kids who want an authentic toy experience without having something that will never grow up with them! With its realistic-looking brown hair coat paired nicely against light tan markings on each leg field – you'll be able to show your little one just what life would have been like if this athlete had not achieved such greatness."
Price:$29.99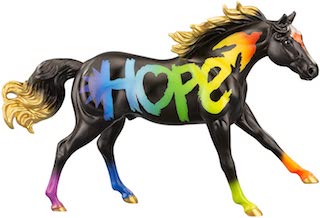 Breyer's horses are excited to introduce the 2021 Freedom Series Horse of The Year, and they have chosen hope. This special edition 9″ x 7″ model has bright colours as well a message for all who see her: "Horse Toy with Special Edition Benefits." $1 from each sale goes towards supporting Covenant House – an organization dedicated to providing housing & supportive services on behalf of youth facing homelessness.
Price:$25.82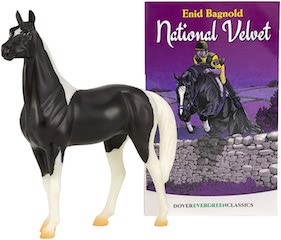 National Velvet is the unforgettable story of a horse-loving girl with aspirations to jump in glory. A perusing dream and taking chances, National velvet follows 14-year-old Enid Bagnold's adventurous journey as she searches for her missing father while living on an isolated farm during the World War II England era.
Product specifications: package contains 1 Breyer freedom Series Horse – Pie & Book Set; These beautifully crafted horses are perfect for any child who wants their very own equine companion or just enjoys browsing through these pieces for a time. Find on Amazon.com.
Price:$44.99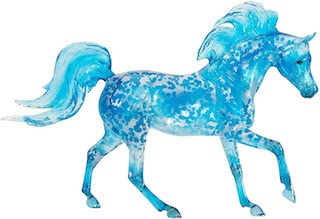 The Breyer Freedom Series High Tide horse toy is a striking piece of decor for any stable! This model comes with vibrant colours and an amazing finish. It's perfect to display or use as part of your riding class because it can withstand some rough treatment from small hands, who will love playing around town on their own time while learning about safety at the same moment.
5. Breyer Horses Freedom Series Le Mer Unicorn
Price:$19.99
La Mer is a stallion and the main character in this story. His coat shines like pearls, which he uses to hide from predators that would eat him if they saw his true form on land or sea- alike. He has shimmering silver hooves with which Le mer runs along beaches before dashing back into deep waters where only he can be seen by other horses as an exploration of freedom rings out across Breyer's newest series Freedom!
6. Breyer Freedom Series (Classics) Running Wild 2 Horse Set
Price:$26.99
Breyer Freedom 2 Horse set includes a red roan Stallion and his Chestnut Pinto foal. These masterfully-sculpted horses are handcrafted by artists with unparalleled attention to detail – they come in every colour imaginable! You'll be able to share your favourite moments as you paint each other's coats pure white or sport flashy racing silks under an umbrella racetrack light at night – it all starts here for both rider & mount alike.
7. Breyer Traditional Brookside Pink Magnum – Welsh Pony, 6″
Price:$26.49
Breyer Traditional Series horse – Brookside Pink Magnum, a striking red roan Section B Stallion. With a dished face and bright eyes, he expresses his breed's Type standards by giving "kisses" to everyone he meets! A testament to the wonderful temperament of Welsh ponies like himself; this beautiful pony can't help but smile while being expressive near every inch of its body, thanks in part to those tiny ears which are just adorable on top if you ask us!. Product specifications: package contains one (1) Breyer product, 1:9 scale, recommended for ages 8 years old+. Created using only natural materials including ceramic resin & stone clay modelling dough.
8. Breyer Horses Traditional Series Chocolatey
Price:$60.99
The Breyer Traditional Series is a must-have for every horse lover. This BREYER model comes with many championships under its belt, including being the two-time Appaloosa Pleasure Horse Association World Champion and producing a result at the sport's highest level! The performance characteristics of this gorgeous chestnut stallion make it perfect not only in competition but also as an all-around pleasure ride too; just be sure to give yourself enough time before riding out so that you can enjoy their beauty fully up close. This beautiful model measures 12 1/2″ long by 8 inches high, with proportions that are as close to real-life-size (1:9)as possible! Recommended age group -8 years old+.
9. Breyer Traditional Series Catch Me Model Horse
Price:$49.99
The Breyer Traditional Series is a line of collectable horses that have been hand-sculpted to resemble their famous Sugar Maple Leaf counterparts. This particular horse, "Catch Me" won major championships at shows across America including the Pennsylvania National Horse Show (2016), Washington International Equine Capitalism Classic hosted by The Capital Challenge Museum & Education Center(2017) CP National show – all before being inducted into the Eques Horse stars hall of Fame!
10. Breyer Horses Traditional Series Sporour Fra Bergi
Price:$46.99
The Breyer Traditional Series is a line of horses designed to be competitive in shows. They have show-stopping gaits and incredible bloodlines, with friendly personalities to match! The newest addition comes from Iceland where he was imported in 2013 – Sporour Frang Beargee (Spor-Thur frow Beaayy) became an instant hit among the Lettleiki Icelandics at Swallowtail Farm after only his first season here due not just how great he looks but also what amazing movement skills are on display when you see him perform.
11. Breyer Horses Traditional Series, Old Glory, Patriotic Red, White, and Blue
Price:$89.99
The 2020 Spring decorator is Old Glory. A stunning decoration model that pays homage to our American flag, this Breyer horse's body has been cast in clear ware with an elegant silver design like stripes and stars across it for added beauty! His head also features a lightning bolt at his forehead, which makes him perfect for any age group above 8 years old (though he would make great gifts regardless).
12. Breyer Horses Traditional Series Paint Horse
Price:$49.99
The Breyer Traditional Series is an all-time favourite among horses enthusiasts and artists alike. This 1:9 scale model of the iconic "ideal" horse breed paintings by Orren Mixer can be found in traditional colours, such as brown or black with polished mane and tail—perfect for your next art project! This is what makes this toy so cool because there's no way any other company could have done anything like these models- they're truly unique creations from someone who knows their stuff when art comes down to authentic horse breed.
13. Breyer Horses Freedom Series Horse | Bright Bay Morgan
Price:$19.99
Breyer's Freedom Series is the perfect place for any kid who wants to go on an adventure! Breyer created this horse breed with one attribute in mind: freedom. The robust 9 7/8″ x 7″, American Morgan horses are ideal as they come equipped with strong legs and necks that can take them wherever their minds decide, while still being small enough where even children will feel like grownups riding these magnificent creatures.
14. Breyer Horses Freedom Series Spanish Mustang Family
Price:$54.99
The Spanish Mustang is descended from the horses brought to America by Spanish explorers. While they're found in almost every colour and pattern, a common characteristic is that their heads usually have an elegant straight or concave profile, like those on galloping chargers with richly feathered manes who dashed across powdered fields centuries ago during royalty's golden age of bullfighting. Breyer Freedom Series captures this power-driven intensity through its design, which allows for freedom–the kind you feel when exploring unknown territory or dreaming about new adventures!
15. Breyer Horses Freedom Series Horse, Pearly Grey Trakehner
Price:$20.09
The Breyer freedom series is a line of collectable horse-themed figures that were designed to capture the power only horses can deliver. The European Warmblood is preferred by equestrians for its agility and strength in Olympic disciplines, this figurine brings you closer than ever before through detailed craftsmanship with an inspirational message about exploration with Horse measures approximately 9.75″ x 7″.
FAQ's
Q. Where do Breyer horses come from?
A. Breyers are hand-painted in the United States by a team of talented artisans who put their heart into every detail to bring you figures that represent what's possible when excellence meets imagination!
Q: Are these toys for kids or adults only?
A: These figures are for all ages, but are especially popular with kids and collectors.
Q: How do Breyer horses work?
A: Breyers are made of durable PVC plastic that is easy to clean–just wipe them down with a damp cloth! All buyers include an educational hang tag that tells you more about the horse's breed and history.
In Conclusion
We hope you have found this blog post informative and that it's given you a better understanding of Breyer Horses. Thanks for reading! I hope you enjoyed this article. If so, please share it with your friends and family who enjoy horseplay as much as I do 🙂 Thanks again for stopping by!